Dear Participants,
Thank you very much for your strong support to 2018 Colourful Yunnan International Granfondo Cycling Festival.
The event is about to commence soon. Here are some FAQs, if you couldn't find your answer below, please send an email to This e-mail address is being protected from spambots. You need JavaScript enabled to view it .
1. Where is the race office? How to sign in? What do I need for signing in?
Location and Service Time of Race Office:

Note:
(1)All 6 stages and 5 stages participants only need to check-in in Mangshi race office.
(2)All 6 stages and 5 stages participants will get an event jersey in Mangshi. When you finish the all stages, you will also get a finisher hoodie at the awards of Lijiang.
(3)1-4 stages participants will get one eventT-shirt in race office.
(4)The participants who sign up for the 2-4 stages only are required to check-in once, it is to check-in in race office of the first stage you participate and get the race bag. There's no need to check-in later. For example, if you sign up for three stages in Mangshi, Ruili and Tengchong, you only need to check-in in Mangshi.
(5) Participants from different categories should sign in at the designated check-in desk.
(6) Materials to sign in: your passport and valid Chinese visa page. All 6 stages and 5 stages participants are required to provide 4 copies of your ID card.( Foreign participants are required to provide 4 copies of passport or valid Chinese visa page) The organizing committee won't provide copying service. Staff will help you sign in in race office. Any further info please feel free to contact us: This e-mail address is being protected from spambots. You need JavaScript enabled to view it
2. What is in the race bag?
All 6 stages and 5 stages participants: 1 event backpack, 2 number bibs, 2 number plates, 2 helmets stickers、2 seat tube sticker、4 pins,4 cable ties, 1 event brochure, 1 event jersey.
1-4 stages participants for same distances: 1 simple package, 1 number bibs, 1 number plates, 1 helmets stickers、1 seat tube sticker, 4 pins, 4 cable ties, 1 event brochure, 1 event T-shirt.
2-4 stages participants for different distances: 1 simple backpack, 2 number bibs (one for Long distance, one for short distance), 2 number plates (one for long distance, onefor short distance), 2 helmets stickers (one for long distance, one for short distance)、2 seat tube sticker (one for long distance, one for short distance)、8 pins, 8 cable ties, 1 event brochure,1 event T-shirt.
3. Where are the race office of all stages?
Mangshi Stage: Mangshi Hotel, No. 1 Bodhi Street, Mangshi, Dai-JingpoAutonomous Prefecture of Dehong, Yunnan Province (Near State Government). Tel: +86 0692-3013333
Ruili Stage: Jing Cheng Earthsea SPA Holiday Center, Middle Section of Ruili Avenue, Ruili City,Dai-Jingpo Autonomous Prefecture of Dehong, Yunnan Province (near Ruili River) Tel: +86 0692-6999277
Tengchong Stage:Mre Jade Crown Jianguo Hotel, Nearthe North Second Ring, Tengchong City, Baoshan City, Yunnan Province (next to Wenxing Building) Tel: +86 0875-5169888
Dali Stage: Grand Bay View International Hotel Dali, Taianqiao South, New downtown, Xiaguan Town, Dali. Near Er Hai Park. Tel: +86 0872-3188888
Lijiang Stage: Guanfang Hotel Lijiang Qidian, South tip of Shangri-La Road, Gucheng District, Lijiang. Near Lijiang Municipal Square and Lijiang Old Town. Tel: +86 0888-5188888
4. How to leave Lijiang on Nov 10 after finish Lijiang stage? Are there buses to Kunming?
No busses on Saturday. The event buses from Lijiang to Kunming will depart on Sunday, Nov 11. It costs 100 yuan for each person and bike. If you need this service please contact This e-mail address is being protected from spambots. You need JavaScript enabled to view it in advance.
There are many public transport options, including airplane travel from Lijiang to Kunming, Shenzhen and else where. As of this year, there is also a fast train service from Lijiang to Kunming, changing trains in Dali (Dali to Kunming in 2hours only!) . If you need to leave on Saturday, please arrange by yourself.
We still recommend long distance participants to stay in Lijiang on Saturday night. It will be deep in the afternoon for most people to come back from Maoniuping.
5. How to transport between stages?
All 6 stages and 5 stages participants please see Transportation Notice of Granfondo Yunnan fordetails.
Colourful Yunnan International Granfondo Cycling Festival is a multi-day event in five different cities. The transport between stages is provided by the organizing committee.The details of the bus service are as follows:
Transportation Notice
1)There're Frontier Inspection Stations in the border cities. Please prepareyour passport in advance.
2)The vehicle throughout the competition is designated, and the ID card is necessary to get on the bus.
3)All participants need to pack their bikes by themselves and hand the packed bikes to the relevant crew member. After arriving at the destination city, participants should collect their bikes by their number bibs. The organizing committee will not be responsible for any damage of the bikes without proper packing during the transportation.
4)The bus and truck will depart on time. If you are late, you have to shoulder all the responsibility.
5) Due to force majeure, OC reserves the right to change the timetable. Any change will be published at the race office.
Bus Between Cities Timetable

Note: On Nov 4, Mangshito Ruili. The tour long distance participants ride to your hotels in Ruili from the finish Myanmar border gate. The 5 stages short distance participants should take event buses organized by the OC to Ruili hotels from the short distance finish.
6. How to return to start from finish?
Start and finish are same place in Stages 2, 3 and 4 (Ruili,Tengchong and Dali). There are shuttle buses from finish to start on other stages.
Shuttle Bus on Race Day Timetable

7. What about my luggage during the transportation between stages? Do I need to pack my bike?
The organizing committee prepares buses and trucks for package B and VIP buyers. Please load your personal luggage and bikes in trucks. And we strongly recommend all participants pack your bikes by yourselves to avoid damage. If you don't pack your bike, you have to shoulder all the responsibility about the caused damage.
8. CouldI send my bike to Mangshi before the event?
Before the event, in order to travel easily, the tour participants can send their bicycles to Mangshi in advance, and the event partner SF(ShunFeng Express) provide sreceiving and delivery services.
The delivery addressis: Jiepodawan,Mangshi, Dehong Prefecture, Yunnan Province, China.
Addressee: Yanaobao Lee
Phone Number: +8618988236333
Please call Mr. Lee after you arrive in Mang, ask for delivery, tell him your hotel and the time of receipt. The delivery fee for each bike is 12 yuan.
And because the address is provided by Shunfeng Express, only bikes delivered by ShunFeng Express canbe received in principle.
More information can befound on the official website of Shunfeng Express:http://www.sf-express.com/
Please consider carefully based on your own condition.
9. What is the Cut-off times in each stage?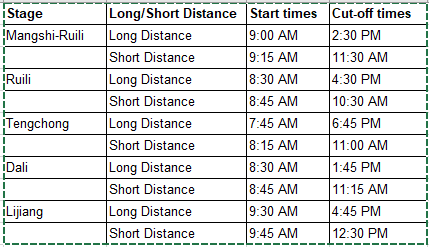 Attention: Each stage has several checkpoints where cut-off times will be applied. Please check online and in the race office before each stage and be aware that we must stop you if you do not reach a check point within the given cut-off time limit under local authority's orders. The cut-off times are based on the nature of the course and should not be a problem for trained and prepared participants in all stages except the two toughest stages in Tengchong and Lijiang, which have a lot of climbing. But hey, that's why granfondo is also a challenge.
10. Does the organizing committee provide mechanical service? What is the location and service time?
Yes, Kunming Pangluntai cycling club and Winspace Company provide bicycle repair and maintenance services for participants. The service opens from 1 hour before start time until the finish closure time.
Kunming Pangluntai cycling club: Mrs Yang, 13888565356 (Accept gas cylinder booking)
Winspace:Mr. Liu, 15980980436
11. Does the organizing committee provide bicycle rental service?
Yes, Kunming Pangluntai cycling club provide it this year. Contact Mrs Yang for details. Tel: 138 88565356
12. What if I suffer a flat tyre or other mechanical problem?
We do not have mandatory gear, but we strongly recommend that you take your own spare inner tubes and tools along in your back pocket in case you have a puncture. Rely on yourself and prevent a DNF because of just a simple flattyre. In some checkpoints and water stations we will have foot pumps and other tools at your disposal. Team cars are strictly forbidden. This is a granfondo cycling event, the emphasis is on the individual challenge and completing the race distance.
13. How to know the results after competition? Are there finish certificates and medals?
You can find your results of the day immediately onlinevia our online leaderboard provided by Race Timing Solutions. The leaderboard includes checkpoint passage times as well, so your friends and families can follow your movements online. The official stage results and the overall ranking (for long distance full tour) will be available every evening and circulated via the event websites, facebook and weixin event applet . All participants finishing the event will get a finish medal. In Lijiang, those who finish all 6 stages and 5 stages can assemble all stage medals to produce a flame golden-winged helmet! In addition, finishers of all six stages can download a Gold Certificate of Achievement, those who finish 5 get a Silver and those who finish 4 get a Bronze Certificate.
Combination medal of Granfondo Yunnan please check here .
Video:How to assemble Granfondo medal please visit here .
14. What rules do I need to pay much attention during the competition?
All participants must read through the competition regulations (see the Event website and event brochure) and are highly advised to attend the race briefings before the relevant stages. These briefings will be held in Mangshi,Tengchong and Dali. Location and time will be announced before the event.
15. Do you have GPX files of the stages?
Yes. But our experience tells us distributing them gives us more trouble than they are worth. It is a simple fact of life and the event that every year we must make last-minute route changes here and there for a variety of reasons, which, however, do not have an impact on the race itself but can cause confusion forriders. it is therefore vital that participants look at the road markings and not at their GPX. In 2018 we make one exception, for the Along Gaoligong stage, as that one takes us far away from the city. Still with the understanding that road markings come first, GPX second.
By the way, if you see a set of cones on the road, never ride through them!
If you have any further question, please feel free to contact the organizing committee.
Event website: http://www.granfondoyunnan.com/
Email: This e-mail address is being protected from spambots. You need JavaScript enabled to view it
the finish medal for 6 stages long distance partcipants